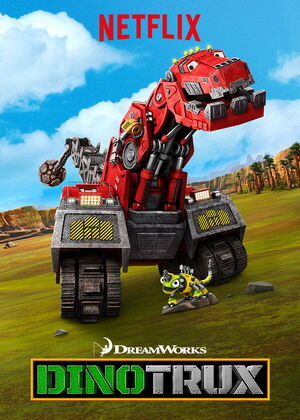 Dinotrux is an American-Canadian computer-animated television series from DreamWorks Animation. It is based on the Chris Gall's illustrated children's book series, which features a fictional prehistoric world inhabited by hybrid characters that are part dinosaur and part mechanical construction vehicle. The series debuted on August 14, 2015, and spanned over eight seasons. Starting with season six episodes were released under the name Dinotrux Supercharged.
DreamWorks Animation first optioned rights to Dinotrux in March 2009, a month before the first book was published, with an intention to develop a computer-animated film.
Cast
The following is a list of the series' North American English voice actors and their roles; several also provide additional voices.
Andrew Francis
Richard Ian Cox
Matt Hill
Ashleigh Ball

Skya, a Craneosaur — part Brachiosaurus and part construction crane
"Numbers", a female member of the Ottos, a group of Hex Wrench Tools - part lizard and part hex wrench
A female Rotilian Reptool
Wrecka, an Ankylodump

Brian Drummond
Fred Ewanuick

Click-Clack, a Rotilian Reptool — part lizard and part rotary drill
Flapjaw, a Pteracopter

Doron Bell

Waldo, a Reptool — part lizard and part monkey wrench
"The Silent Dude", One of the Ottos
Kelper, a Crabcavator - part crab and part excavator

Kelly Sheridan

Blayde, a villainous female Dozeratops with a larger blade/frill and an excavator tail

Maryke Hendrikse
Kyle Rideout
Brenda Crichlow
Heather Doerksen
Brian Dobson
Scott McNeil

Split, an Ankylodump and leader of the Speed Trux

Michael Adamthwaite

Downdraft, a Dozeratops member of the Speed Trux

Michael Daingerfield
David Attar
Tabitha St. Germain

Yurg, a Blue-Crested Liftasaur

Charlie Demers

Albert, an Ankylodump physically identical to Ton-Ton

Sarah Edmondson

Rocksie, a Craneosaur physically identical to Skya

Jesse Moss

Doze-Doze, a Dozeratops physically identical to Dozer

Rebecca Shoichet

Rexxie, a female T-Trux who appears physically identical to Ty

Shannon Chan-Kent
Jason McKinnon
Additional Species
Episodes
Trivia
Gallery
Videos
Community content is available under
CC-BY-SA
unless otherwise noted.