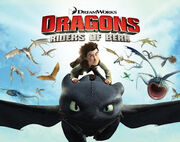 DreamWorks Dragons (subtitled Riders of Berk, Defenders of Berk and Dragon Masters in its first three seasons, respectively) is an American TV series based on the movie How to Train Your Dragon, and is chronologically set after it.
Cast
Episodes
Season 1: Riders of Berk
"How to Start a Dragon Academy"
"Viking for Hire"
"Animal House"
"The Terrible Twos"
"In Dragons We Trust"
"Alvin & the Outcasts"
"How To Pick Your Dragon"
"Portrait of Hiccup as a Buff Man"
"Dragon Flower"
"Heather Report Part 1"
"Heather Report Part 2"
"Thawfest"
"When Lightning Strikes"
"What Flies Beneath"
"Twinsanity"
"Defiant One"
"Breakneck Bog"
"Gem of a Different Color"
"We Are Family Part 1"
"We Are Family Part 2"
Season 2: Defenders of Berk
"Live and Let Fly"
"The Iron Gronckle"
"The Night and the Fury"
"Tunnel Vision"
"Race to Fireworm Island"
"Fright of Passage"
"Worst in Show"
"Appetite for Destruction"
"Zippleback Down"
"A View to a Skrill Part 1"
"A View to a Skrill Part 2"
"The Flight Stuff"
"Free Scauldy"
"Frozen"
"A Tale of Two Dragons"
"The Eel Effect"
"Smoke Gets in Your Eyes"
"Bing! Bam! Boom!"
"Cast Out, Part I"
"Cast Out, Part II"
Season 3: Dragon Masters
A third season, subtitled Dragon Masters, will air sometime in 2015.
Gallery
DVD / Video
Videos