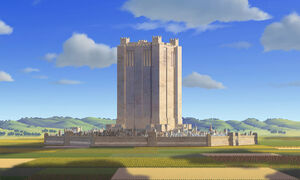 The Kingdom of Duloc is a part of the Shrek Universe It loosely resembles a theme park Duloc was a theme park with the little puppets at the welcome sang Welcome to Duloc.
Travel Guide
Geography
Duloc is located at the edge of a giant cornfield High walls surround the kingdom To get in you have to walk through the turnstiles It can be assumed that the members of Duloc worship Lord Farquaad as one of the residents can be seen dressed up as him.
Locations
These include:
The Main Street full of stuff about Duloc.
Farquaad's Palace which towers towers over every other building in Duloc.
Duloc Arena
Political System
Lordal Monarchy It is unknown who rules Duloc now.
References
Shrek:The Essential Guide
Community content is available under
CC-BY-SA
unless otherwise noted.