"Audrey's back."
―Tagline
Harvey Street Kids is an upcoming American animated comedy television series that is being produced by Brendan Hay and Aliki Theofilopoulos Grafft for DreamWorks Animation, and is based on comic book characters from Harvey Comics.
From the official press release: "From its never-ending games of kickball to the infinite flavors of its ice cream truck to the greatest climbing tree in the universe, every day on Harvey Street feels like a Saturday. And that's largely thanks to the Harvey Girls – Audrey, Lotta, and Dot – the block's self-appointed guardians and the world's bestest BFFs. They will do whatever it takes to keep Harvey Street the best block to never grow up on and transform every afternoon into a wild adventure"
Description on Netlfix's official site: "Join three fierce best friends for a whirlwind of fun and adventure in this animated series set in a special place ruled by kids." The series will air on Netflix on June 29th.
Cast
Tara Strong as Little Audrey, Melvin
Grey DeLisle as Little Lotta, Lucretia
Amber Montana as Little Dot
Trivia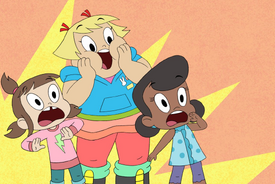 The series' look of the characters is completely different than the original Little Audrey theatrical cartoons, as well as the Harvey Girls comic books.

For this series, Audrey wears a long-sleeved shirt with a lightning bolt, long pants and hi-tops, while Lotta wears a jacket and a pair of boots.
Also for this series, Dot was portayed as an African-American.

This series appears to be wackier, cartoonier and a lot more slapsticky than the original Little Audrey theatrical cartoons ever was, as well as making use of a wide array of various zany cartoon sound effects (mainly from the Warner Bros. and Hanna-Barbera cartoons). In fact, this series appears to have the highest level of slapstick as that of other cartoons such as Looney Tunes, Tom & Jerry, Pucca, Sabrina the Teenage Witch (1971), Rocko's Modern Life, Jimmy Neutron: Boy Genius, Inspector Gadget, The Lion King's Timon & Pumbaa and MGM Tex Avery cartoons.
The series' opening sequence is very similar to Cowboy Bebop opening sequence.

The series' theme music was a fast-paced jazzy instrumental re-imagined version of Little Audrey's theme song, Little Audrey Says.

Services in the notices range from toys, clothes, comic books, home videos, television and so on, indicating that DreamWorks Animation and NBCUniversal might be wanting to bring the Harvey Girls out of the vaults and start the most successful multimedia franchise based off of them, entitled The Magical World of Little Audrey and the Harvey Girls.