Harvey Street Kids is an upcoming American animated comedy television series that is being produced by Brendan Hay and Aliki Theofilopoulos Grafft for DreamWorks Animation, and is based on comic book characters from Harvey Comics.
Kids rule in a place called Harvey Street, where a trio of girls right wrongs, ice cream is always an option and every day feels like Saturday.
Description on Netlfix's official site: "Join three fierce best friends for a whirlwind of fun and adventure in this animated series set in a special place ruled by kids." The series will air on Netflix on June 29th.
Cast
Stephanie Lemelin: Audrey
Kelly McCreary: Dot
Lauren Lapkis: Lotta
Atticus Shaffer: Melvin
Grey Griffin: Lucretia
Danny Pudi: Tiny
Anna Camp: Chevron
Roger Craig Smith: Pinkeye / Bobby the Elder
Jamaal Hepburn: Gerald
Dee Bradley Baker: Raccoons
Trivia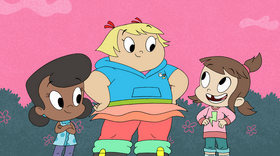 It was Little Audrey's very first animated appearance, since 1958's Dawg Gawn.
The character designs for the series, is completely different than the original Little Audrey theatrical cartoons, as well as the Harvey Girls comic books.

For this series, Audrey wears a long-sleeved shirt with a lightning bolt, long pants and a pair of hi-tops, while Lotta wears a jacket and a pair of boots.
Also for this series, Dot is portrayed as an African-American.

Unlike the original Little Audrey theatrical cartoons, and the Harvey Girls comic books, Harvey Street Kids is set in the 2010s (based on the kids' use of tablets and the internet).
This series appears to be wackier, cartoonier and a lot more slapsticky than the original Little Audrey theatrical cartoons ever was. In fact, this series appears to have the highest level of slapstick as that of other cartoons such as Looney Tunes, Tom & Jerry, Pucca, Sabrina the Teenage Witch (1971), Rocko's Modern Life, Jimmy Neutron: Boy Genius, Inspector Gadget, The Lion King's Timon & Pumbaa and MGM Tex Avery cartoons.
The series was renewed for the second season.