Wiki Targeted (Entertainment)
Play Sound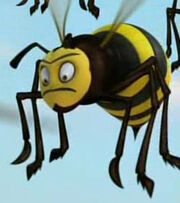 The hornets first appear in the episode Sting Operation. After they built a nest near the zoo's entrance, the penguins tried to get rid of them, only to be stung numerous times. The hornets planned to threaten a group of school kids who were about to enter the zoo. At the end of the episode, the hornet nest was destroyed, and they were forced to leave.
They make another appearance in the episode Seige the Day. When the zoo animals were having a party, the hornets were attracted by the large amount of food and soon threatened to sting Private and the ducklings. The King Rat and his minions also wanted vengeance against the animals for making so much noise. After a while, Private and the ducklings hide and let the attackers in, sparking a huge fight between the two groups. Eventually, both the rats and hornets grow tired of attacking each other and leave.
Gallery
Trivia
The Hornets are different from the bees used for the Bee Movie.