Hudnut (voiced by Sam Vincent in US and Rob Rackstraw in UK) was a young red male Rotilian Reptool who appeared in the Dinotrux episode "Sawmetrodon".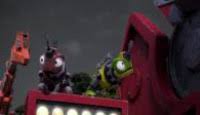 History
Unlike the older Reptools in his village, Hudnut believed the stories of the friendly T-Trux Ty Rux and his Reptool friend Revvit, and went out to seek their help when his home was threatened by the Sawmetrodon Splitter. Unfortunately, his search led him into D-Structs' Fortress of Fear, and it was only by the lucky chance that Ty himself was in the area that spared Hudnut an unfortunate fate. He explained his village's predicament to the Trux, and they soon set out to see if they could stop Splitter by reasoning with him; when this failed, a battle ensued. Splitter remained a threat, but Revvit hit upon a strategy to jam Splitter's blades, which Hudnut insisted upon taking part in for the sake of his home.
Finding that reaching a place to jam Splitter's blades would require getting into him from above, Hudnut suggested approaching his fellow Reptools for help to build a suitable structure out of existing bamboo scaffolding. They succeeded in persuading the other Reptools to help, promising to evacuate them in the event it became necessary. He and Revvit made it inside the sleeping Splitter, but had to deal with the Sawmetrodon's inner workings and him getting knocked about when he awoke and started moving. Fortunately, they succeeded in their mission, and after Splitter departed Hudnut was confident he could stop him again if he ever returned.
Community content is available under
CC-BY-SA
unless otherwise noted.