Jackie Chan (born Chan Kong-sang, 陳港生; April 7,1954) is an Hong Kong actor, director, and producer who has starred in various films such as Dragon Lord, Project A, The Protector, Miracles, Crime Story, Rob-B Hood, Rush Hour Trilogy, The Tuxedo, The Karate Kid, Once a Cop, and The Lego Ninjago Movie. He is the voice, model character, and martial arts model of Master Monkey in Kung Fu Panda, Kung Fu Panda 2 and Kung Fu Panda 3. He is best voicing as Mr. Feng from The Nut Job 2. He was also the voice of Monkey in all the Chinese dubbed versions of the Kung Fu Panda film franchise. His son Jaycee Chan voiced a younger Monkey in Secrets of the Furious Five as well as Crane in the Chinese dubbed versions of the first two Kung Fu Panda films.
He was married to Lin Feng-jiao (林鳳嬌) in 1982, a Taiwanese actress. They have two children, a son named Jaycee Chan (房祖名) and a daughter, Elaine Ng Yi-Lei. He has four siblings that are Fang Shisheng, Fang Shide, Guilan Chan, and Yulan Chan.
DreamWorks Roles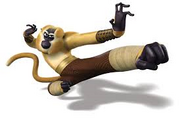 Community content is available under
CC-BY-SA
unless otherwise noted.