We're Getting Mutants in the MCU - The Loop
Play Sound
Jurassic World: Camp Cretaceous is an animated series that premiered September 18, 2020 on Netflix. In October 2020, the series was renewed for a second season that premiered on January 22, 2021. In March 2021, the series was renewed for a third season that premiered on May 21, 2021. In October 2021, the series was renewed for a fourth season that premiered on December 3, 2021. In April 2022, the series was renewed for a fifth and final season that premiered on July 21, 2022.
Plot
Jurassic World: Camp Cretaceous follows a group of six teenagers chosen for a once-in-a-lifetime experience at a new adventure camp on the opposite side of Isla Nublar. When dinosaurs wreak havoc across the island, the campers are unable to reach the outside world and will quickly go from strangers to friends to family as they band together to survive.
Cast
Paul-Mikél Williams as

Darius Bowman

Jenna Ortega as

Brooklynn

Ryan Potter as

Kenji Kon

Raini Rodriguez as

Sammy Gutierrez

Sean Giambrone as

Ben Pincus

Kausar Mohammed as

Yasmina Fadoula

Jameela Jamil as Roxie
Glen Powell as Dave
Dinosaurs and other prehistoric animals
Baryonyx

Brachiosaurus

Carnotaurus

Ceratosaurus

Pteranodon

Sinoceratops

Tyrannosaurus rex

Velociraptor
Episodes
Season 1
Secrets
The Cattle Drive
Things Fall Apart
Happy Birthday, Eddie!

Welcome to Jurassic World

Last Day of Camp
End of the Line
Season 2
A Beacon of Hope
The Art of Chill
The Watering Hole
Salvation
Brave
Misguided
Step One
Chaos Theory
Season 3
View from the Top
Safe Harbor
Casa De Kenji
Clever Girl
Eye of the Storm
The Long Run
A Shock to the System
Escape from Isla Nublar
Whatever It Takes
Stay on Mission
Season 4
Beneath the Surface
At Least...
Turning Dr. Turner
Rude Awakening
The Long Game
Mission Critical
Staying Alive
Technical Difficulties
Dino-Sitting
Taking Control
Who's the Boss?
Season 5
Reunited
The Final Test
Battle Lines
Evasive Action
Shaky Ground
Out of the Pack
The Leap
Clean Break
The Core
Arrival
The Last Stand
The Nublar Six
Gallery
Videos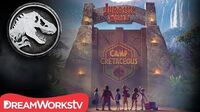 Trivia
It remains unknown whether Allosaurus, Pachycephalosaurus, and Triceratops will appear in the series.