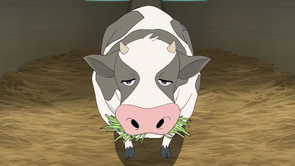 Kaltenecker the Cow is an Earth cow that Pidge and Lance got when buying a Mercury Gameflux Two game system from a store in the Unilu Space Mall from the Netflix TV series Voltron: Legendary Defender.
History
When Pidge and Lance were looking for teludav lenses, Pidge wanted to buy a Mercury Gameflux Two game system and Killbot Phantasm 1 game too. And when Pidge and Lance got enough money to buy them, they got this cow to trade. And since then it has traveled with Paladins of Voltron.
Gallery
Community content is available under
CC-BY-SA
unless otherwise noted.