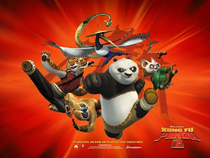 The Kung Fu Panda franchise consists of three feature films: Kung Fu Panda (2008), Kung Fu Panda 2 (2011), Kung Fu Panda 3 (2016). In this movies, Po (voiced by Jack Black) wants to be a Dragon Warrior after Oogway chooses him to stop any villain doing bad things to the Valley of Peace. At first, the Furious Five didn't like it but they accept him.
Film series
Kung Fu Panda (2008)
Main article: Kung Fu Panda
Po, a clumsy, overweight panda, is a kung fu fanatic who lives in the Valley of Peace and works in his goose father Mr. Ping's noodle shop, unable to realize his dream of learning kung fu. One day, a kung fu tournament is held for the elderly spiritual leader of the valley, Grand Master Oogway, to determine the identity of the Dragon Warrior, the one kung fu master capable of understanding the secret of the Dragon Scroll, which is said to contain the key to limitless power. Everyone in the valley expects the Dragon Warrior to be one of the Furious Five—Tigress, Monkey, Mantis, Viper, and Crane—a quintet of kung fu masters trained by Master Shifu to protect the valley. To everyone's surprise, Oogway chooses Po, who had accidentally stumbled into the tournament arena after arriving late.
Refusing to believe that Po can be the Dragon Warrior, Shifu subjects Po to torturous training exercises in order to discourage him into quitting. Determined to change himself into someone he himself can respect, Po perseveres in his training and befriends the Furious Five, who had previously mocked Po for his lack of skill in kung fu. Po soon learns that he must fight Tai Lung, an evil kung fu warrior who has escaped from prison to take revenge for being denied the Dragon Scroll, and despairs he will be unable to defeat him. However, Shifu discovers that Po is capable of martial arts when motivated by food, and successfully trains him to learn kung fu. After his training is complete, Po is given the Dragon Scroll, which he discovers to be blank. However, Po realizes that the key to limitless power lies within himself, allowing him to defeat Tai Lung and restore peace to the valley.
Community content is available under
CC-BY-SA
unless otherwise noted.