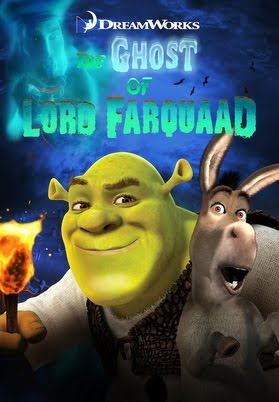 Shrek 4-D, also known as Shrek 3-D Adventure, Shrek's Never Before Seen Adventure, Shrek The Adventure Continues, or The Ghost of Lord Farquaad, is a 3-D animated short film produced by DreamWorks. It is included on a separate disc included with the Shrek Single-Disc DVD, then in a double feature with Bob's Big Break, and then on the Shrek's Thrilling Tales DVD, and finally on a Shrek/Shrek 2 Blu-Ray. The DVD version is of course in anaglyptic (red/cyan glasses) format; the Blu-Ray version was presumably in dual-image format for viewing on 3D TVs. The story takes place after Shrek and before Shrek 2. Lord Farquaad was eaten by the dragon, but his ghost has returned, and he's still evil. With the help of his henchman, Thelonious, he kidnaps Princess Fiona. Shrek and Donkey set out to save her, with help from the dragon, before she goes over a waterfall on a raft.
Cast
Trivia
In Universal Studios Florida, this show replaced Alfred Hitchcock: The Art of Making Movies. In Universal Studios Hollywood, it replaced Rugrats Magic Adventure 3-D.
In Movie Park Germany, it replaced Spongebob SquarePants 4-D.
In the Shrek's Thrilling Tales DVD, the short is called The Ghost of Lord Farquaad.
Community content is available under
CC-BY-SA
unless otherwise noted.