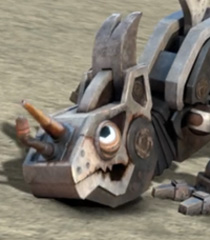 Skrap-It is the secondary antagonist in the Netflix TV series Dinotrux. He is a Scraptool and D-Structs' henchman.
in Dinotrux
Garage. First appearance he was seen checking his scrap collection until it was interupted by D-Structs who made a deal with scrap it to get fixed and in return he will get him t trux scrap later on helping d structs create discord among the others.He last appeared happily walking with d structs to get his end of the bargain only to have it strained when ty survived and Walked away along with d structs in defeat thus becoming d structs minion.
Pit.He was first seen showing d structs a peice of scrap which then d structs dented later on finding a new plan to defeat the Dinotrux.He along with D-Structs lured the others to their tap which was a huge pit.He was going to attempt to scrap revvit when he tried to stop them but was called off by d structs because he did not see revvit to be able to defeat them.After being thwarted by revvits genius plan and friends he proceeded to try to scrap D-Structs when he fell into the pit only to fall right on d structs and to be called a fool.
Garby.Made a short appearance making a picture of D-Structs out of scrap until the Dinotrux came making him hide.After they found Revvit whom they thought was kidnapped by
Personality
Skrap-it,unlike Reptools, can dismantle things instead of fixing them. He is a bit jittery and jumpy as well as not very smart.He is loyal to D-Structs and his loyalty has increased more in Season 2 to the point of being sad when D-Structs leaves him alone or tells him to leave and is a bit more smarter than d structs when it comes to acceptance as shown in the first episode of season 2 when he openly accepted the Dinotruxes help when they were stuck on a cliff
Gallery