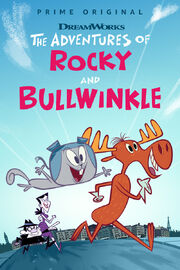 The Adventures of Rocky and Bullwinkle
is an animated streaming series for Amazon Prime featuring characters from the
Rocky and Bullwinkle Show
produced by
DreamWorks Animation
. It is set to be released on May 11, 2018.
[1]
Synopsis
"The world-famous talking moose and flying squirrel are back in The Adventures of Rocky and Bullwinkle, a comedy about two goofball friends who end up in harrowing situations but end up saving the day time and again. As their silly ambitions dovetail with Fearless Leader's sinister plans to take over the world, they are set on a collision course with his notorious super spies Boris and Natasha."
Cast
Tara Strong as Rocky J. Squirrel
Brad Norman as Bullwinkle J. Moose/Agent 1/Crab Monster/Bullwinkle Monster
Ben Diskin as Boris Badenov/Pauly Bro / Flytrap 3 / Humongalon / Cute Monster /Alpha Bro / Manchester 
Rachel Butera as Natasha Fatale/Lady Bro/Pedestrian 1 /Flytrap 2
Piotr Michael as Fearless Leader/Alpha Bro/Pedestrian 3 / Flytrap 4
Daran Norris as Narrator/Pedistrian 2 /Flytrap 1/Evil Chicken
Kari Wahlgren as Grandwinkle
Fuschia! as Peachfuzz
Rachel Butera as Agent 2
Gordon Ramsay as Himself
Ant Simpson as the Butter/Butler Monster/ Driver
Grey Griffin as Dr Lesso
Rhomeyn Johnson as Rafi Tusk
Kevin Michael Richardson as President Leader
Eric Bauza as Premier Leader
Mario Lopez as Himself
Faruq Tauheed as Mayor Grundstrom
Walla as Monsters
Eric Goldman as Vocalist
Tom Kenny as Colonel Boudreaux
Ben Giroux as Newsie
Videos
Gallery
Trivia
Following June Foray's death in 2017, Tara Strong took over the voice of Rocky J. Squirrel, as the new voice of Rocky.
At the end from Ep 9 Old Bill was put way the trash from the reunion.
In Ep 10 after Bullwinkle and Rocky pull the Book from the Bookself they turn into Mr Peabody and Sherman
In Ep 2 After Bullwinkle Remove Rocky Helment he revealed he have Hair.
In Ep 3 Rocky Realize he not a Ocean Person.
This is the first time Tara Strong to be male.
References
External links