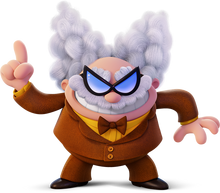 Tippy Tinkletrousers (A.K.A Professor Poopypants) Is the main antagonist of Captain Underpants: The First Epic Movie.
He Is voiced by Nick Kroll.
Official Biography
"Professor Poopypants Is an evil scientist turned elementary school teacher. He decided that George and Harold's school Is the perfect place to enact his evil plan, and the only chance In the world Is Captain Underpants"
Main Quote
"There's nothing funny about Professor Pippy Diarrheastein Poopypants Esquire!!!"