To: Gerard is an Dreamworks Animation short film that is written and directed by Taylor Meacham.[1]
Plot
Toward the doldrum end of his shift, a sprightly mailman sorts envelopes and packages nimbly with the flick of a wrist. Despite working in a post office all his life, Gerard has dreamed of one day finding his audience as a famous magician like his childhood hero. With effortless dexterity that accompanies mastery, this delightfully overgrown kid practices magic every day with a special coin… a gift from The Great Vivonti. When an inquisitive young girl named Jules wanders upon his practiced routine, she's dazzled by his talents. With the help of his cherished coin, Gerard charms his first-ever audience member with an impromptu magic show. In this moment, two artists — separated by decades — unknowingly set off a chain reaction that will change both of their lives forever.
Videos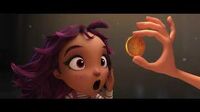 Gallery
Community content is available under
CC-BY-SA
unless otherwise noted.