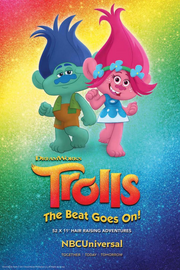 Trolls: The Beat Goes On! (also listed as Dreamworks Trolls: The Beat Goes On![1] is a TV series adaptation of the film of the same name. The series premiered on January 19, 2018 on Netflix. The series stars the voices of Amanda Leighton as Poppy and Skylar Astin as Branch.
Songs
1. Hair in the Air (Poppy And Branch)
2. Happily Ever After (Poppy and The Snack Pack)
3. Best Day Ever (Poppy)
4. Forgive Me (Show Version) (Branch)
5. Move Ya Body (Cloudy Guy)
6. The Other Side of the Storm (Poppy and Branch)
Cast
Main Characters
List of episodes
Season 1
A New Bergen-ing/Laugh-Out Cloud
Two-Party System/Fun Branch
Royal Review/Funishment
Bad News Bergens/Unhealthy Competition
Cloudy with a Chance of Hugs/Creek Week
The Giver/Bellow Bug Day
Season 2
Prank Day/Adventures in Dinkle-Sitting
Eye'll Be Watching You/Sorry Not Sorry
Big Poppy/Neighbor War
Remote Out Of Control/Critter Comfort
The Poppy Horror Picture Show/Dinkles Dinkles Little Star
The Party Games/Trolly Tales
Model Behavior/Pillow War
Season 3
The Imposter/The Frenemy
Hair-Jitsu/Crushin' It
Meet the Peppy/Party Crash Course
Trolly Tales 2/Rainbowmageddon
Coop, Where's My Guy?/Fluffleberry Quest
FOMO-OPUP/Lost in the Woods
Season 4
Party Crashed
Weekend at Diamond's/Branchception
The Bunker List/The Interns
Three Troll-keteers/The Helper
Smidgician/DJ's Got Talent
Peril Patch/Sibling Quibbling
Musical Thrones/Branch Bum
Season 5
Wormhole/Ear Worm
Don't Worry Be Peppy/Two's a Cloud
Glitter Loss/New Anthem
Dark Side of the Lagoon/Mr. Glittercakes
Snow Day/Guy Misses Out
Scrap to the Future/Bringing Up Birdy
Season 6
Blank Day/Haircuffed
Marshtato Fairy/Do the Biggie
Hitting the Sky Note/Hug Fest
Chummy Sparklestone/Giggleyum
Glamping/A Flower for Poppy
The Partier's Apprentice/Hair Ball
Season 7
Freeze Tag/Whimsy Wasps
The Fast and the Friendliest/Much Achoo About Nothing
Extreme Sleepover Club/Vega Swift
Scrapbookmobile/Troll Rangers
Doc Doc, Who's There?/Tour Guide of Duty
Troll Playing Game/Finn Cascade
Gem Day/Bad Luck Branch
Season 8
Queen of the Castle/Truth or Dare
Friend Matching/Trolly Tales 3
Apple of My Ire/Funsgiving
Bunker Break-In/To Catch a Critter
CJ's Wooferbug/What Did I Miss?
Tall Tail/BFFF
Switcher-Ruby/Bye Bye Bunker
References
Community content is available under
CC-BY-SA
unless otherwise noted.