watch 01:21
The Loop (Movies)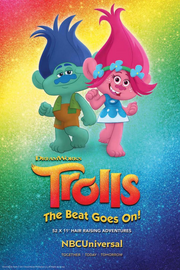 Trolls: The Beat Goes On! is a TV series adaptation of the film of the same name. The series premiered on January 19, 2018 on Netflix. The series stars the voices of Amanda Leighton as Poppy and Skylar Astin as Branch.
Songs:
1. Hair in the Air (Poppy And Branch)
2. Happily Ever After (Poppy and The Snack Pack)
3. Best Day Ever (Poppy)
4. Forgive Me (Show Version) (Branch)
5. Move Ya Body (Cloudy Guy)
6. The Other Side of the Storm (Poppy and Branch)
List of episodes
Season 5
Season 4
Season 3
Season 2
Prank Day/Adventures in Dinkles-Sitting
Eye'll Be Watching You/Sorry Not Sorry
Big Poppy/Neighbor War
Remote Out of Control/Critter Comfort
The Poppy Horror Picture Show/Dinkles Dinkles Little Star
The Party Games/Trolly Tales
Model Behavior/Pillow War
Season 1
A New Bergen-ing/Laugh-Out Cloud
Two-Party System/Fun Branch
Royal Review/Funishment
Bad News Bergens/Unhealthy Competition
Cloudy with a Chance of Hugs/Creek Week
The Giver/Bellow Bug Day
Community content is available under
CC-BY-SA
unless otherwise noted.