This timeline contains all the chronological references in DreamWorks Animation's media. Because many of DreamWorks's franchises are set in alternative and fantastic universes, this timeline excludes Shrek, Kung Fu Panda, The Croods, Home, Trolls and Dinotrux franchises.
Unknown past

The Big Bang occurs.[1]
The Dark Times begin.[4]
Gallaxhar is born on a unknown planet. During his adulthood, he destroys his homeworld and its inhabitants, presumably including his wife.[5]
Gunmar and his Gumm-Gumm Trolls are exiled and imprisoned for centuries after the Battle of Killahead by Deya the Deliverer.[6]

27,000,000 BC
100,000 BC
30,000 BC
17,992 BC
After 17,992 BC

The Ice Ages occur, causing the Missing Link to be frozen for almost 20,000 years.[10]
1345 BC
After 1345 BC
1332 BC
1329 BC
1324 BC
1303 BC
Between 1303 BC and 1279 BC
Before 1279 BC
1279 BC
Between 1279 BC and 1213 BC
1213 BC
More of 1,000 years before 1519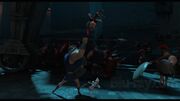 1184 BC
Third Century BC
During Roman Empire
10–32 CE
Centuries before the Battle of the Red Death
Byzantine Epoch
300 years before the Battle of the Red Death
50 years before the Battle of the Red Death
45 years before the Battle of the Red Death
35 years before the Battle of the Red Death
20 years before the Battle of the Red Death
c. 15 years before the Battle of the Red Death
1010[24]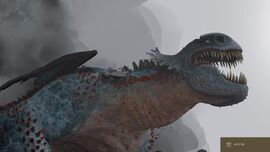 Days around the Battle of the Red Death
Some time after the Battle of the Red Death
One year after the Battle of the Red Death
Between three and four years after the Battle of the Red Death
Five years after the Battle of the Red Death[23]
1037

One of the time-travel destinations of Mr. Peabody was in this year.[1]

11th Century AD
1215
1245

Sqweep is born on an unknown planet.
14th Century
Between 1300 and 1500
c. 1312
Between 1390 and 1520
15th Century
1412

The events of [[Pitch Black (comic story)] occur.

c. 1416
1450

Tottington Hall's Annual Giant Vegetable Competition has its first edition to Tottington Hall. [32]
16th Century
1500's
1503
1508
Less than 20 years before 1519
1519
1566
1572
17th Century
18th Century
C. 1712
Around 1718–1721
Around 1726–1729
1752
1776
1789
1794
1795
1798
19th Century
1911
1914

December 25th: the Christmas truce occurs.[45]

1917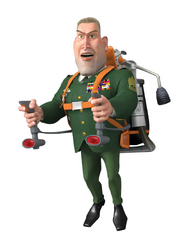 1919
1922
1926
1928
1930's
1930
1932
Between 1940 and 1945
1941
1943

Rule-Bot is created by General Monger in the case of a nuclear Holocaust. Due to the event never coming to happen the robot was put into storage for nearly 70 years.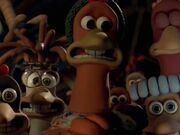 Between 1950s and 1960s
1950

Area Fifty-Something is created.[5]

1953
1954
c. 1955
1956
1957
1958
1961
1962

September, 12th: Dr. Cockroach tests his device on himself, one that would give humans a cockroach's ability to survive forever. He later found that there was a side effect of giving him the head and abilities of a cockroach. He's later captured and transported to Area Fifty-Something.[5]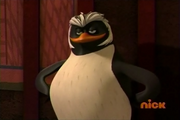 1970's
Between 1978 and 1988
1982
1983
1988
1989
1995
21st Century — 2000's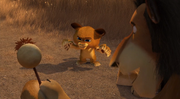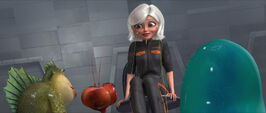 21st Century - 2010's
2017
2018
2019

According to Dr. Cockroach, his current projections they won't be done cleaning until over six years.[57]
Far Future
2036
2508

In case of nuclear war, the government has a plan that would permit the president to survive the nuclear fallout for 500 years.[5]

2710
Centuries after now
3013

During one of the few succeful experiments of Dr. Cockroach he claimed that it wouldn't have been seen in 1000 years.[77]

6,700,000 years in the future
End of Times

According to Norse mythology, the end of times known as "Ragnarok" will occur.[79]
Notes and references
↑ 15.00 15.01 15.02 15.03 15.04 15.05 15.06 15.07 15.08 15.09 15.10 15.11 15.12 15.13 15.14

Historical records

↑ 16.00 16.01 16.02 16.03 16.04 16.05 16.06 16.07 16.08 16.09 16.10 16.11 16.12 16.13 16.14 Mr. Peabody & Sherman
↑ 32.0 32.1 32.2 Wallace & Gromit: The Curse of the Were-Rabbit; which took place in 1966 (see that article's Trivia), and that year's vegetable competition was the 517th, so assuming an unbroken run of annual competitions, the first must have been 516 years before.
↑

He is said to be 300 years old. This has been confirmed by the creators of the movie, but Peter Ramsey says that he's physically 17 years old, while William Joyce, creator of the series, states that Jack is 14.

↑

In our timeline George Crum didn't invent the potato chip in 1853; that accolade goes to William Kitchiner in 1817, in his cookbook, The Cook's Oracle. In the US, Mary Randolph's Virginia House-Wife (1824) and N.K.M. Lee's Cook's Own Book (1832) both cite Kitchiner.

↑

Pre-decimal prices are in use, so the year must be before 1971; a stick of candyfloss costs 6d, which is about right by 1966 values.

↑ Rise of the Guardians script
↑ Haunted Habitat. Note that in the real world, Groundhog Day is every February 2nd.
↑

In 2015, Dreamworks Animation celebrated Snoggletog on December 18.
Community content is available under
CC-BY-SA
unless otherwise noted.