VeggieTales is an American series of children's computer animated films featuring anthropomorphic vegetables in stories conveying moral themes based on Christianity.
Cast of Characters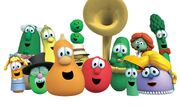 List of Episodes
Where's God When I'm S-Scared? (1993)
God Wants Me To Forgive Them!?! (1994)
Are You My Neighbor? (1995)
Rack, Shack & Benny (1995)
Dave & the Giant Pickle (1996)
The Toy That Saved Christmas (1996)
Larry-Boy! & The Fib From Outer Space! (1997)
Josh and the Big Wall! (1997)
Madame Blueberry (1998)
Larry-Boy and the Rumor Weed (1999)
King George and the Ducky (2000)
Esther...The Girl Who Became Queen (2000)
Lyle the Kindly Viking (2001)
The Star of Christmas (2002)
The Ballad of Little Joe (2003)
An Easter Carol (2004)
A Snoodle's Tale (2004)
Sumo of the Opera (2004)
Duke and the Great Pie War (2005)
Minnesota Cuke and the Search for Samson's Hairbrush (2005)
Lord of the Beans (2005)
Sheerluck Holmes and the Golden Ruler (2006)
LarryBoy and the Bad Apple (2006)
Gideon: Tuba Warrior (2006)
Moe and the Big Exit (2007)
The Wonderful Wizard of Ha's (2007)
Tomato Sawyer and Huckleberry Larry's Big River Rescue (2008)
Abe and the Amazing Promise (2009)
Minnesota Cuke and the Search for Noah's Umbrella (2009)
Saint Nicholas: A Story of Joyful Giving (2009)
Pistachio (2010)
Sweetpea Beauty (2010)
It's a Meaningful Life (2010)
'Twas the Night Before Easter (2011)
Princess and the Pop Star (2011)
The Little Drummer Boy (2011)
Robin Good and His Not-So Merry Men (2012)
The Penniless Princess (2012)
The League of Incredible Vegetables (2012)
The Little House That Stood (2013)
MacLarry & The Stinky Cheese Battle (2013)
Merry Larry and the True Light of Christmas (2013)
Veggies in Space: The Fennel Frontier (2014)
Celery Night Fever (2014)
Beauty and the Beet (2014)
Noah's Ark (2015)
Feature Films
Jonah: A Veggietales Movie (2002)
The Pirates Who Don't Do Anything: A Veggietales Movie (2008)
See Also (Spin-off Series)
Community content is available under
CC-BY-SA
unless otherwise noted.